Project
Passion Project
UX Bootcamp
Roles
UX Researcher

UI Design
Interaction Designer
Deliverables
25 Screens
LoFi Wireframes
HiFi Wireframes
Prototype
Pitch Deck
Challenge
Humans are busier and more stressed than ever before. As a result, mental health is becoming increasingly important in today's day and age.
The trouble is finding the time for mindfulness. Everyone know's we should — it's just tough to get into the habit of setting aside time when we feel as though we don't have any to begin with!
Solution
Tea drinkers need a way to find a mindful moment within a tea ritual because their lives are busy and they seek something beyond simply drinking tea — they're looking for a tea experience.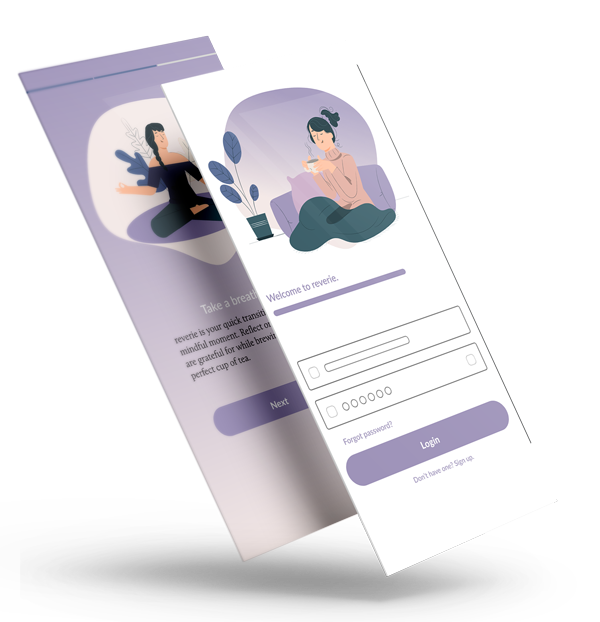 UX Process
Test Early, Test Often.
While interviewing users and doing some initial testing, we found that the many were confused during the onboarding process. 
At first there were no obvious buttons, it was a swipe alone feature. We changed this feature to display a large "next" button on the lower half of the screen and a progress bar along the top. 
Final Takeaways
Iterative and continuous.
Starting out, we assumed that users just needed to know the perfect temperature and steep times to brew the perfect cup of tea. After interviewing tea lovers and moderate tea drinkers alike, we found that rather than a scientifically perfect cup, users were looking for a comforting experience when reaching for a cup of tea.
Some learnings: 
+  user testing can result in some mixed feedback; wait until all data is collected before making changes.
+ save copies of your iterations just in case.
+ testing wireframes earlier would have been more ideal.